Electric Vehicle Charging
Smarter and more efficient electric vehicle charging
Electrice vehicle charging installations
Quality products expertly installed
For both the domestic and commercial market Call For a Quotation:
Tel: 0141 321 9627
Mob: 0779 533 1529
Why we provide the best car charging solution for your electric vehicle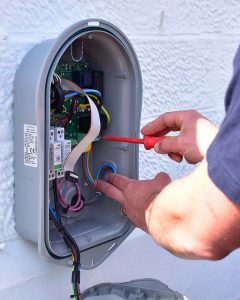 There are lots of different options when it comes to electric car charging systems, and choosing the right one could save you a lot of money. At ERES Electrical we only use quality charging systems and carry out safe installations.
SOLAR PV TIE IN
By choosing the correct EV charger you can use it in conjunction with a solar pv system.  This can be set to only charge with free self generated energy.

"We have just had our first EV charger installed by ERES, great job, so pleased."

"We are now charging our EV via a Zappi.  We went down this route as we are utilising free energy produced by our solar panels.  Great advice from ERES. Free miles!"